Baroc
The latest design that has been established by close cooperation between the companies from Rotero Holding is "Baroc", a mobile operating table/chair. Within this project Q-Tec is responsible for the development process and the assembly. Rotero has helped in the development of the two-stage column which makes the seat height adjustable and DIS Sensors developed the electronics and software needed to control the chair. Parameters such as speed, large forces in a compact space (the chair is designed for a maximum load of more than 3400 N) and a low noise level play an important role. Not only will the companies benefit maximum from each other's knowledge and associated products, this close collaboration also provides a cost technical advantage.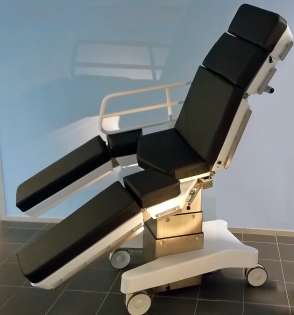 Baroc - mobile operating table/chair


So also for customer specific questions and total solutions including the design and production of mechanical and control you can count on DIS Sensors. Please feel to contact us so we can discuss your ideas. We would be happy to sit down with you to talk about the possibilities and the solutions we can offer you.