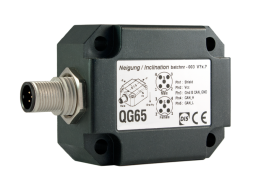 According to the new market research report "Tilt Sensor Market by Housing Material Type (Metal, and Nonmetal), Technology (Force Balance, MEMS, and Fluid Filled), Vertical (Mining & Construction, Automotive & Transportation, Telecommunications), and Geography - Global Forecast to 2023", is expected to grow from USD 150.8 Million in 2016 to reach USD 260.3 Million by 2023, at a Compound Annual Growth Rate (CAGR) of 8.17% between 2017 and 2023. The growth of this market can be attributed to the ability of these sensors to provide information on the tilting position of objects, which is crucial in various applications for making decisions related to operations as well as for ensuring safety.
High demand for tilt sensors
DIS Sensors is one of the 10 major players operating in the tilt sensor market (tilt & inclination sensors). This market, based on housing material type, is led by the non-metal housing material type. The high demand for tilt sensors with plastic housing material is one of the major factors that has led to its dominant position in the said market. Many of the DIS Sensors' tilt switches and inclination sensors use a unique universal plastic housing concept. Advantages of this housing are the very compact size, simple installation and the fact that the electronics are fully sealed which provides a high degree of ingress protection (IP67). The housing is also available in metal (aluminum and stainless steel).
More information
Read more about our tilt switches and inclination sensors:

General info tilt switches
Everything you need to know about our QG40N tilt switch
General info inclination sensors



Source: www.marketsandmarkets.com
More news