DIS has been developing and assembling its sensors in-house for over 30 years. Also the electronic prints are manufactured in our establishment in Soest. The mounting of components onto printed circuit boards is one of the first steps within the SMT manufacturing process.
In cooperation with EUROPE-SMT, DIS Sensors has enhanced its production facility with a Yamaha YSM10 Surface Mounter*1, making it the first YSM10 user in the Benelux.
The YSM10 is a compact and flexible machine that will enable DIS to process the components used in our future sensor products. This modern tool offers many possibilities, such as enhanced traceability, and new working methods that will expand our production capacity.
The Yamaha YSM10 is one of the fastest Pick and Place machines in its category*2, with a CPH rating (component placement per hour) of 30,000*3 as per IPC 9850.
To further enhance our capabilities, we have also purchased a more advanced screen printer from manufacturer DEK. Expertise with the procurement process was provided by KVMS, a EUROPE-SMT affiliate. The support and cooperation of both companies with the precise integration of the new systems was a highly positive experience. The ramp-up of the new production line is now in full swing.
A nice step forward!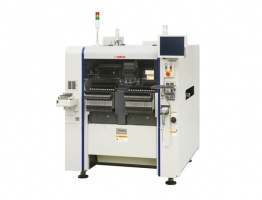 More news