DIS Sensors has recently launched a new series of CANopen Dynamic Inclinometers. These sensors are ideal for industrial construction machinery, as they instantly and accurately measure the true inclination angle of the machine or component, and are unaffected by movement or rotation of the machine.
We are pleased to report that the Dutch RDW has now granted this sensor series approval for Automotive usage with an E4 certification (E4 = E1, but approved by the Dutch RDW).

This approval indicates that the sensor series meets CE standard + Automotive Regulation 10 EMC requirements, as measured and verified by a notified body test house.
In addition, we successfully extended the EMC immunity and emissions range to comply with EMC Standards for Railway and Agricultural applications. The corresponding Declaration of Conformity is available on our web page. The E4 approval certificate for the QG65D-CAN series is also available on our web page.
The sensor can be ordered in either a reinforced plastic housing (QG65D) or stainless steel housing (QG76D).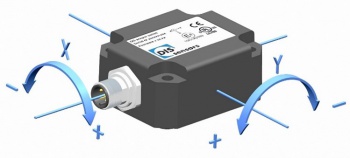 These are the first sensors based on our newly-developed hardware platform. Later in 2021 we intend to extend the range with options for J1939 and analog interfaces.
Detailed datasheets are available via our online product selector.
More news