The DIS Sensors QR40 family of rotary encoders with shaft was phased out some time ago due to component supply issues. However, thanks to continued demand from the market for this model, we are pleased to announce that following a redesign, the QR40 encoder family is once again available to order.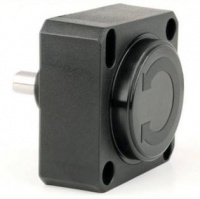 The only difference with the old model is the absence of a centering option to digitally set an exact zero point after mounting. In all other aspects, the new QR40 line is backwards compatible.
Customers have three options for setting the 0° point:
Minor adjustments (±7°): use the mounting slot-holes in the housing
Major adjustments: mount the housing at the desired angle
Exact centering: implement a centering function in the application software, and run it once after mounting.
The family comprises models with voltage and current outputs for various measuring ranges, and includes a 2m cable as standard.
OEM customers can request custom models (subranges, outputs, cable length, cable/connector).
Datasheets are available via our product selector (select "Housing QR40").
More news