Agritechnica, 12-18 november 2023 - the world's foremost trade fair for agricultural machinery and equipment, is just around the corner, and we couldn't be more excited to be a part of it. We invite you to visit the DIS Sensors booth and connect with us at this grand event.
As the countdown to Agritechnica continues, agricultural enthusiasts, innovators, and industry leaders from around the globe are gearing up to converge in Hannover, Germany. This renowned event promises to showcase the latest advancements in agricultural technology and machinery, making it a must-attend occasion for those passionate about the future of farming.
At DIS Sensors, we understand that finding the right sensor tailored to your specific needs is crucial. In a personalized needs analysis, we are dedicated to identifying the perfect sensor for your application. Make the decision during your complimentary consultation, and contact us to schedule an appointment.
Don't miss this opportunity to explore the future of agriculture, connect with industry experts, and find the perfect sensor solution for your needs. Join us at Agritechnica in Hannover, where innovation meets agriculture.
Get in touch with us to secure your personal access pass, available in limited quantities for our valued customers. Act now!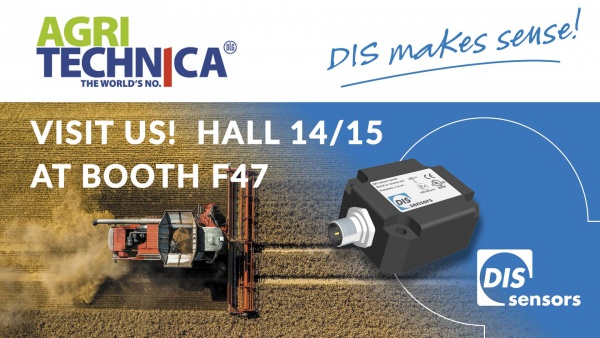 More news