A tilt switch is a type of switch that switches at a certain angle as compared to the horizon (similar to the old mercury switch). It is in fact an inclinometer with a switching output. Since gravity serves as a reference maximum mounting freedom is achieved.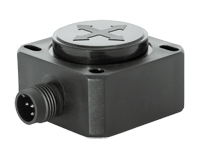 The tilt switches from DIS Sensors are based on MEMS technology and intelligent microcontroller algorithms. As a result, single or twin axis switches can be implemented with any desired switching angle. The output can be NPN or PNP. A SIL1 / PLc tilt switch for safety applications completes the portfolio. An optional configurator is available to configure the switch (angles, delay times, filtering).
Types of tilt switches
DIS tilt switches are available with the following general specifications:
| | |
| --- | --- |
| range 1 axis: | up to ±170° |
| range 2 axes: | up to ±80° |
| output: | single or dual NPN/PNP |
| level of protection: | IP67, IP68 or IP69K |
| programmable: | switching angle, on/off delays, filtering |
| housing: | robust small plastic housing with fully potted electronics |

With the QG40N configurator you can program the tilt switches to any angle. Take a look at our family overview for clear overview of the types of tilt switches we have to offer.
The product selector can help you to decide which type of tilt switch is best suited to your specific needs. If you can't find the sensor you are looking for, please contact your local distributor. Other useful documents for QG sensors, like manuals and EDS files can be found under downloads.
Applications
Elevated work platforms, agricultural machinery, forklift trucks, stackers
Accessories
We have a wide range of accessories available to make sure the tilt switch will perform at its best potential. Please take a look at accessories for an overview. If you are looking for an accessory that's not on the list, please don't hesitate to contact us.