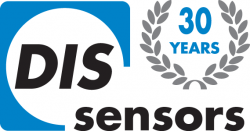 Thirty years ago, a clever idea for a new sensor housing led to the founding of DIS Sensors. It was the start of a company that over three decades has evolved into a reputable developer, manufacturer and supplier of industrial sensors. Always ahead of the market, designing innovative sensors in-house, with hands-on supervision of production to the highest quality standards. Co-director Pim Wieske of the second generation looks back; but above all, ahead.
"My father started the merchandising company Rotero in 1983. After a few years, with the business going nicely, he was looking around for a new opportunity, which he found in the ideas of Mr De Wit. He proposed a new sensor housing concept: instead of the typical long and clumsy threaded metal tube, why not a flat, square housing that's more compact and much tougher?"
The company DIS Sensors (Dewit Industrial Sensors) was registered in 1987 and production of these new sensors was started. The housings were indeed ground-breaking, but the applied technology was equally noteworthy: an early adopter of SMD technology, DIS incorporated SMD in their innovative sensor design to further guarantee overall durability and reliability.
Success at Hannover Fair
By the time the company presented itself at the Hannover Fair, two models had already evolved into a complete series, attracting immense interest. The company's limited production capacity started to become an issue, which was solved by significant expansion over the years that followed.
Pim: "In 1995 I joined the company as a young sales manager. That was shortly after Rotero Holding had become 100% owner of DIS, and we had started the development of a new line of sensors. Today, those QG and QR sensors for inclination, acceleration and angle measurement still contribute a major part of our turnover."
Alongside product development, the company appointed a new director to drive the process of professionalization, and to qualify DIS sensors for ISO certificates and other quality approvals. "Nowadays we get audited by customers and research institutes on a regular basis, and we always pass with flying colours", Pim says with evident pride.
Innovations
Pim credits the successful growth over the past decades to the company's innovative capacity, but also to good sense, and a corporate culture that fosters personal development. "Compared to the multinationals, with just 30 people we're relatively small, but we are good at anticipating and meeting the future needs of the market. Moreover, we are willing and able to invest, and we have an excellent team of engineers capable of translating a technical challenge into a dependable sensor solution.
As an example, our most recent innovation is a line of safety sensors to enable mobile cranes to meet mandatory requirements that took effect in 2016. One of our customers pointed this out to us a few years ago, and asked if we were willing to take on the necessary development. We decided to make that investment, and now it's proving its value every day."
Future
The business climate is obviously a positive factor, and DIS sensors is in the thick of many new developments, such as Industry 4.0 and Internet of Things, but the company has also proven to be a survivor, even in times of crisis. By focusing. By sticking to the strategy and vision of the family business, and by investing in the right developments, and taking bold decisions.
"We are truly a family business," says Pim. "All of my father's shares were officially transferred this year to my brothers and me, and we are now entering a new phase. We certainly aim to continue this business far into the future.
One major development is the recent establishment of DIS sensors USA. At the same time, we are currently developing a new inclinometer that transmits a clear sensor signal even in dynamic situations. We achieve this by integrating a gyroscope and accelerometer in a single sensor, filtering out all 'noise' from dynamic motion, and leaving only the pure sensor signal that we want."
More news