DIS — specialist in the development, production and application of (smart) sensors — has recently expanded its machinery with an industrial "dispensing" machine for casting resin. This resin allows the sensitive electronics, which make the sensors "smart", to be encased precisely with a two-component resin that offers protection against external influences. The result is a sensor with an extremely constant quality and reproducibility, as well as reduced production costs and improved traceability.
DIS has exhibited steady growth in recent years in the field of "smart" sensors. Its own development department, with specialists who have all the knowledge required to convert (latent) customer demand into a smart sensor solution, has grown along with the company. This is also true for the production quantities of DIS, which has resulted in the need for a larger production hall and further automation of the production process. The opportunity presented by a renovated building and expansion to fulfil this need was immediately seized by DIS to organise its production process in a "Leaner" manner.
Casting machine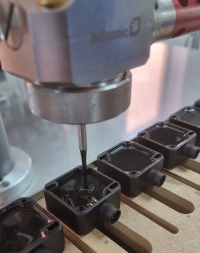 One of the steps in this phase was the purchase of a so-called industrial casting machine from the German manufacturer bdtronic. This machine automatically applies, after the assembly process, a two-component casting resin in the area where sensitive electronics are located. By using an optimal ratio of the resin components and by mixing them carefully, the viscous mass then hardens to become a hard, solid plastic.
Such plastic optimally protects the electronics, which determine the full functionality of the sensor, against external influences. These include moisture, contamination and chemical substances but also, for example, temperature differences against which the resin provides a temporary barrier. What's more, because the resin optimally fixes the various components in the housing, the sensor is also resistant to mechanical strains such as shocks and vibrations. This is important, considering that the sensors have a broad range of applications: from agricultural and mobile machinery to automotive (trucks), PV fields and wind turbines.
Benefits for the customer
In 2022, after an extensive period of testing, the industrial dispensing machine has been implemented in the production process in collaboration with the manufacturer. Mark Dorrestein, managing director of DIS explains: 'With this semi-automated step, we can reduce the costs of the production process and therefore control the prices of our sensors.
The advanced process control also contributes to optimal reproducibility and improved registration of process information. This allows us to maintain the high quality of our products, and it aligns with the constantly increasing requirements which are imposed on the product, process and traceability.'
More news