The QG40N family of sensors developed by DIS sensors consists of inclinometers, accelerometers and tilt switches. Thanks to their flexibility and reliability, the innovative QG40N tilt switches are finding their way into more and more customer applications.
QG40N tilt switch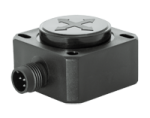 A tilt switch is an inclinometer (electronic spirit level sensor) with a switching output at a pre-defined tilt angle. This type of sensor is ideal for monitoring the tilt angle of a platform or deck, or detecting when a crane or boom is approaching its safe operating limits. When the measured angle exceeds the maximum angle set point, the sensor will switch the output so that the application control unit can take appropriate action (such as activating an alarm, restricting speed/direction of movement, or enabling safe mode). A tilt switch is also an ideal replacement for a traditional mercury switch or proximity switch.
The zero feature gives the QG40N tilt switch a generous mounting tolerance, reducing the cost of installation.
Summary of features
One or two-axis programmable tilt switch
Contactless, wear-free, robust housing, IP67
1-axis up to ±179° and 2-axis from ±1° to ±80°
Dual output NPN or PNP up to 200mA
Accuracy 0.5°, zero feature
UL certified, flexible, economical
Custom output signal on request
An optional configurator is available for customer programming of the switching points, delay times, hysteresis and filtering.
For safety applications, a new single sensor safety device (SIL1/PLc) will be launched in Q3 2017.
For more information about this sensor, please contact your local distributor.