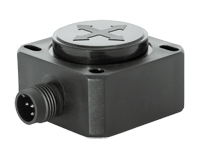 The QG40N family of sensors developed by DIS sensors comprises inclinometers, accelerometers and tilt switches. Customers are increasingly turning to the innovative, powerful and flexible tilt switches for their applications. Previously, two sensors were required to achieve functional safety. DIS sensors has now developed a new Safety Tilt Switch in a single housing. This product is ideal for use in safety-critical applications, as all mandatory safety checks for SIL1 are implemented within the device. For compliance with SIL2 requirements, a redundant second device can be used.
Tilt switches are electronic inclinometers with a switching output at a pre-set angle from horizontal. This type of sensor is ideal for monitoring the maximum platform tilt angle or safeguarding the range of a crane / boom. When the measured angle exceeds the pre-set angle, the sensor will switch the output, so that the control unit of the application can take appropriate action (e.g. sound an alarm, restrict the speed of a vehicle, or put the machine into safe mode). It is also a more efficient alternative to mercury switches or proximity switches.
The ability to zero the sensor after mounting enables greater assembly tolerances, with lower production and service costs.
Summary
Functional Safety: SIL1 (IEC 62061) / PLc (EN ISO 13849)
One or two-axis programmable tilt switch
Contactless, no wear, robust housing, IP67&IP69K
1-axis up to ±170° and 2-axis from ±80°
Dual output PNP up to 200mA
Accuracy 0.5°, zero function
UL certified, flexibility, low cost
Adaptable for OEMs
An optional configurator is available for customer programming of the switching set points, delay times, hysteresis and signal filters.
Contact your local distributor for more information.
More news